YouTh Development At the heart of iFma's vision
When IFMA achieved its IOC recognition in 2016, IFMA Sport Director Charissa Tynan stated "Youth and Grass root development is key for the future. It's a simple as that. If we want to predict the future, we must shape it. While guiding the youth we must also be listening, we must be credible on all levels. While competition always plays an important part, it is not the most important. Cultural exchange and understanding, making friends and having fun while participating in sport is equally if not more important."
In line with this philosophy, IFMA runs activities aimed at youth all year round with the apex being the annual youth World Championships with over a thousand participants. During this event IFMA takes the opportunity to run a variety of workshops, seminars and conferences aimed at educating the IFMA youth on important topics such as good governance, anti-doping and the importance of intercultural dialogue done in partnership with UNESCO.
The Youth Conference at this year's Youth World Championships for example saw youths from some 79 countries come together in the athletes' hotel to discuss doping, education and sport.
The panel was made up of athletes and experts on various aspects of youth muaythai including Dr Erdogan Aydin Chair of the IFMA Medical Commission who spoke on the dangers of doping and encouraged the youth to become informed on the WADA regulations using humorous slides and cartoons. Sue Glassey, IFMA vice-president and a high school teacher talked about ways to mix schooling and elite level training, and how to maintain a healthy balance.
Caroline Baxter from UNESCO spoke about social projects which IFMA youth can be involved with, and discussed how muaythai can benefit people in a much wider way than just in the gym. Rodrigo Jorquera from Peru linked in with this, and spoke about how muaythai helped him turn around his life as a teenager. He showed videos and discussed how the federation is now carrying this on with kids projects in Lima.
And of course the athletes joined in. American youth athlete Maile Eugenio Caras was on the stage, and she described her daily routine and how she focussed on winning gold at the championships. World Games 2017 athlete Jared Rothwell from South Africa spoke about his experience in Wroclaw. Many other athletes spoke from the floor, asking questions and for further information on topics like TUEs and whereabouts reporting for doping control.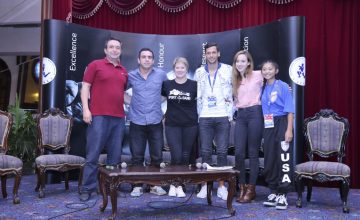 Chair of the IFMA Youth Commission Elisa Salinas – who runs the Sport Is Your Gang social project in Mexico –  said: 'Through conferences like this IFMA continues to ensure that the youth of the world play the most important part in our youth development programme. The aim is always to ensure they have a voice in the overall decision-making process of IFMA planning for the future as they are the future.'
In the spirit of fun, friendship and cultural exchange, IFMA also organises the annual Gala Awards night to honour the achievements of athletes, federations and youth leaders. At this year's edition, the area outside the gala hall was transformed into a Thai-style carnival fayre with games, food and cotton candy.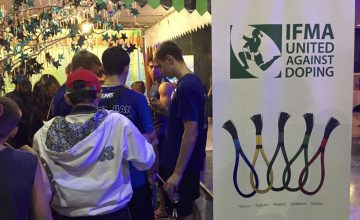 To continue engaging with the youth on the importance of doping, an Anti-Doping Outreach booth was nestled among the other traditional games. The booth was dressed in the characteristic WADA brand colour of vibrant green and offered informational pamphlets to athletes on a wide variety of subjects such as TUEs, Doping Control, Prohibited List and where they could access it and of course a specially adapted game.
The kids were invited to catch a star from the "Tree of Anti-Doping Knowledge" which would reveal a question which if answered correctly, won them a prize. Questions covered a spread of topics and anti-doping trivia and were multiple choice.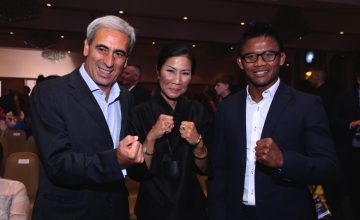 ARISF President Raffaele Chiulli was guets of honour to witness this year's fayre and gala and he expressed his admiration for IFMA's efforts to organise such an event and was particularly impressed with the performances which highlighted the theme of IFMA united in its diversity.